This 5-Ingredient Sheet Pan Chicken and Potatoes takes two common dinner items to next-level deliciousness — all in one pan for easy cleanup!
Looking for more 5-ingredient meals? Try Thai Peanut Beef, Buffalo Chicken Sliders, or Sweet Paprika Chicken.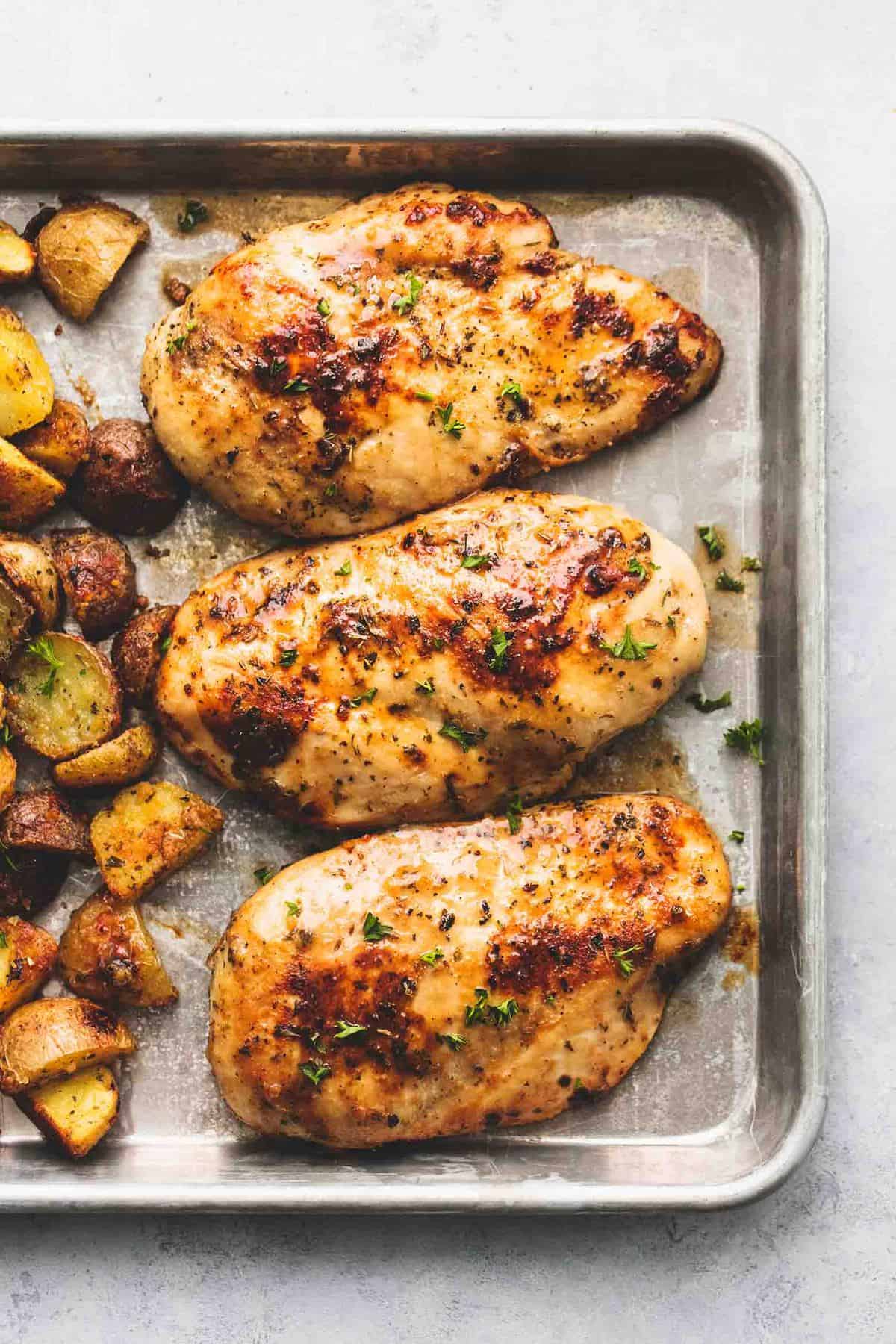 There's a lot of misconception in the food world that you need a lot of fancy ingredients or tools to make a good meal. As I try to get across in this blog here, that's simply not true.
You don't need a lot to deliver a wholesome, flavorful meal in a short amoutn of time. Although my ingredient amounts vary from recipe to recipe (sometimes there are more needed than others), I do try to scale them all back to what is only necessary or pointing out that you can buy pre-mixed seasoning blends to save you even more effort and time (and money). That being said, I decided to challenge myself even more by limiting myself to get meals out the door in with only 5 ingredients.
That's right! FIVE.
(Full disclosure: I'm not counting oil, salt and pepper, as those are considered "basics" that can go on anything and generally remain fully stocked in your pantry at all times.)
You wouldn't believe what kinds of meals you can make with only five ingredients. Simple, delicious, tasty meals that fit a variety of lifestyles, budgets, and taste buds are well within your reach. So follow along with me as we journey to the easy side.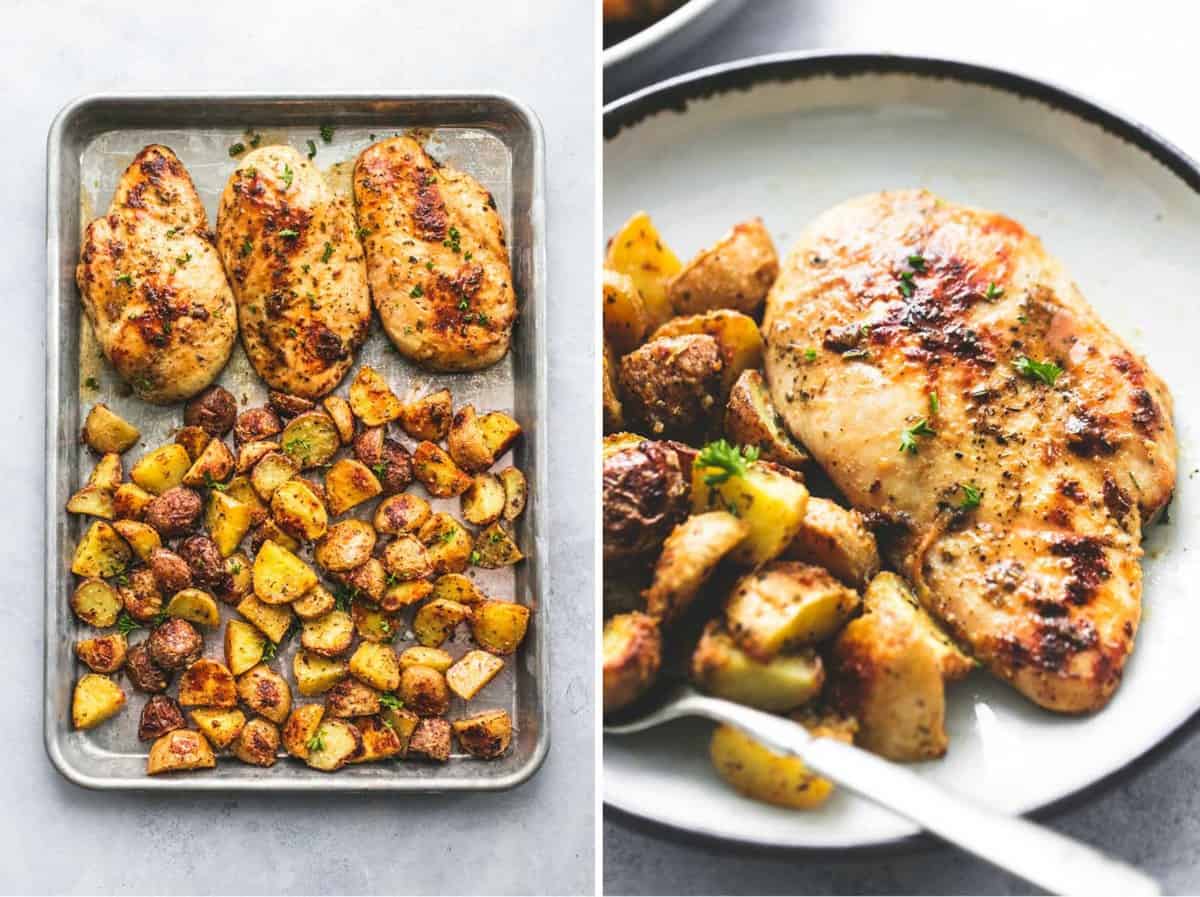 Serving Suggestions
So many things go well with this dish! So many EASY things too. Dishes you can cook right alongside the chicken and potatoes, in fact (or not cook at all!).
In addition to (or instead of) veggies, why not try a seasonal fruit salad? I sometimes save mine for the end of the meal or even dessert if I'm feeling like something light and refreshing.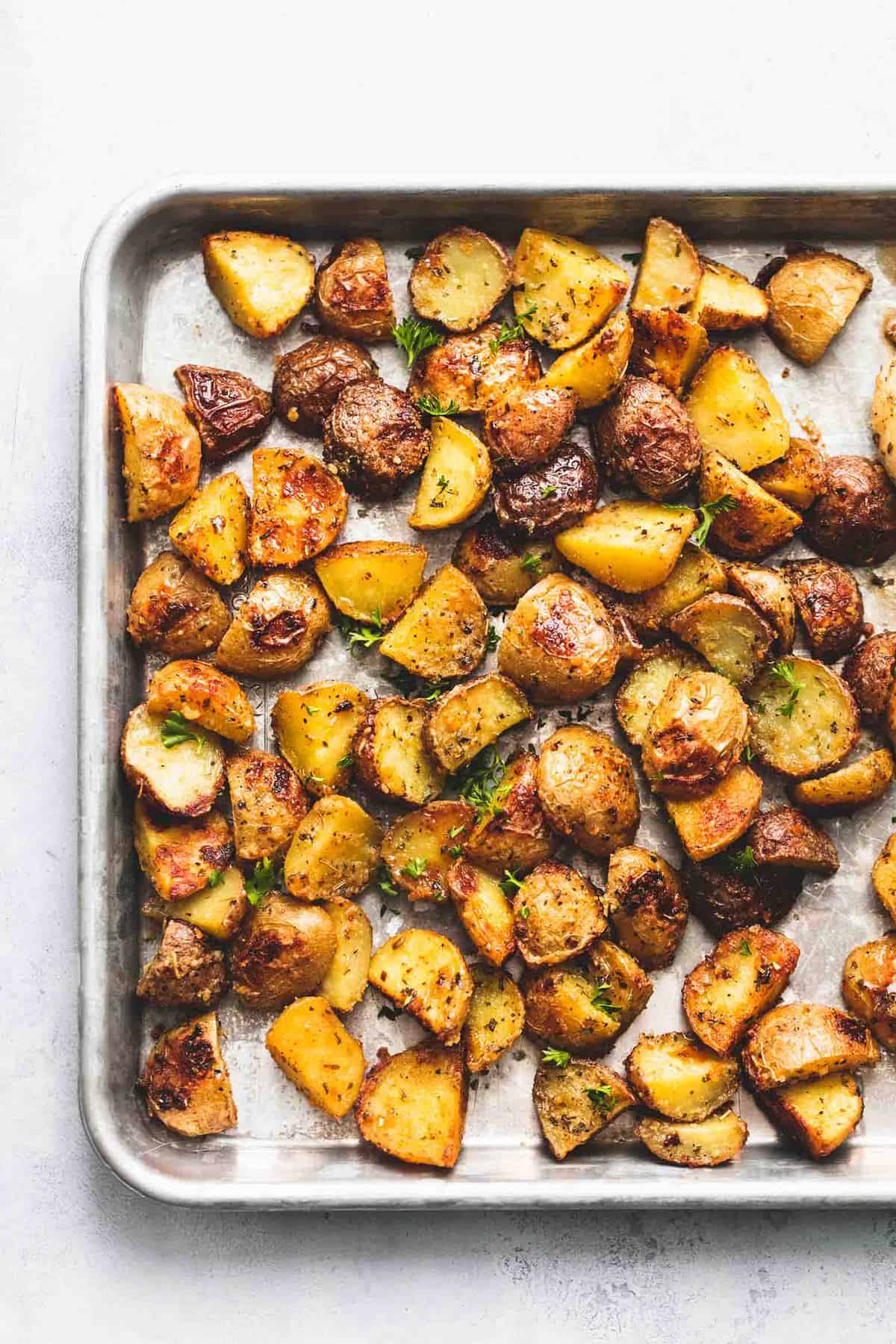 Do Potatoes Count as a Vegetable?
Although my kids think it counts as a vegetable (and is legit considered a vegetable), potatoes, don't count toward your veggie consumption, if you're following the government's 5-a-Day recommendation. That's because they mainly count as a starch, similar to pastas, rice, or cereals.

That's not to say potatoes aren't good for you though. They are a good source of fiber, vitamins C and B6, and potassium. The fiber they contain helps decrease your cholesterol, which in turn is good for your heart.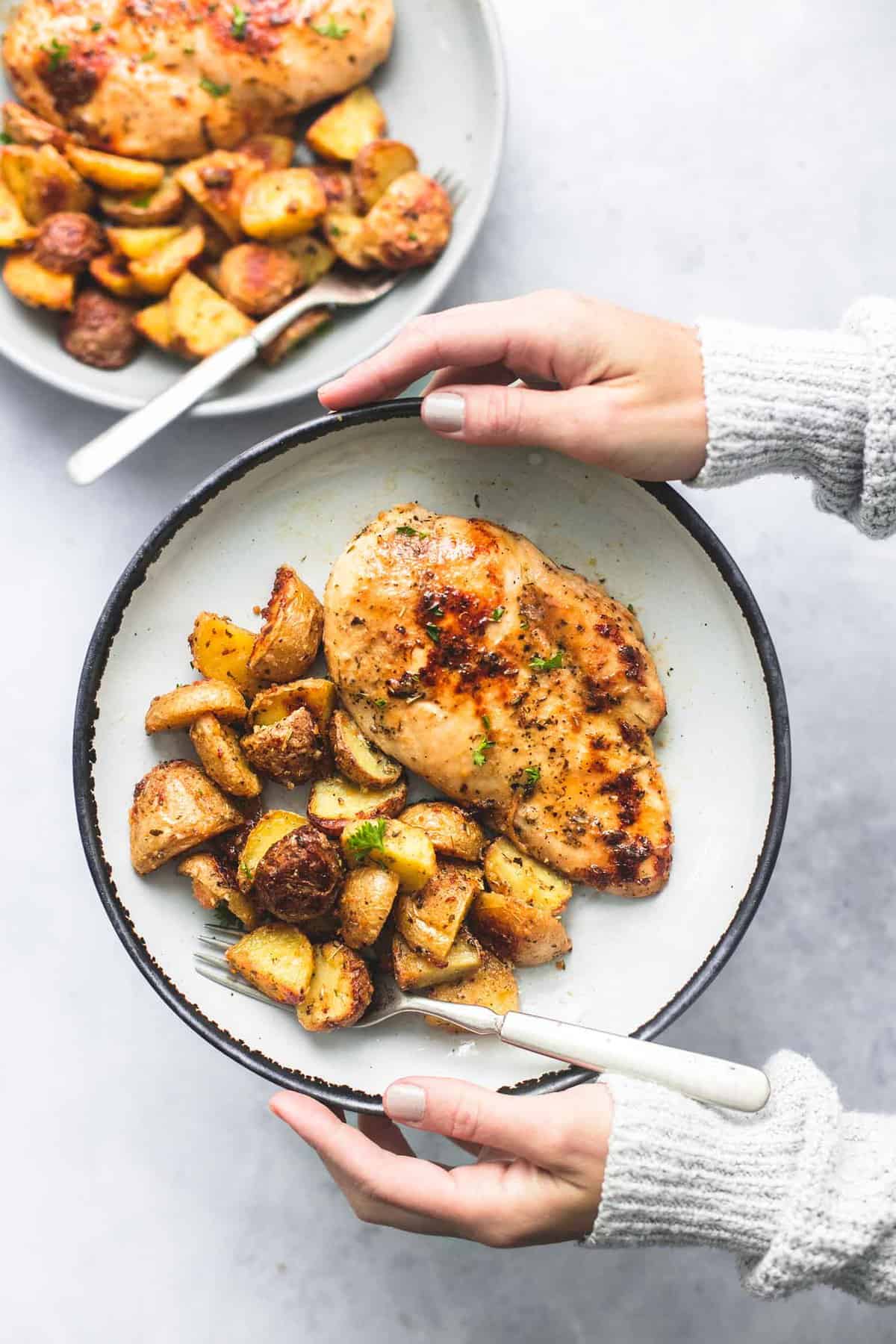 How to Grill Chicken and Potatoes
Grilling is also a great way to make your dinner with less mess and it gets you out of the kitchen into the great outdoors, which is such a nice thing to do this time of year. You can certainly make this Sheet Pan Chicken and Potatoes on the grill as well. Here is how I've done it before:
Instead of drizzling your chicken with the oil and seasonings, add your chicken to an airtight bag and add the oil, salt, pepper, dry ranch seasoning, and garlic powder. Add the potatoes to another baggie along with more oil and the Parmesan cheese. Seal both and put in your fridge for 30 minutes to an hour.

You can either put the potatoes to cook on a grill pan or in a foil packet.
Light the grill and place the chicken and potatoes on to start cooking. The chicken will need about 5-7 minutes on the first side, flip it over and grill for another 5-7 minutes, or until a meat thermometer reaches 165°.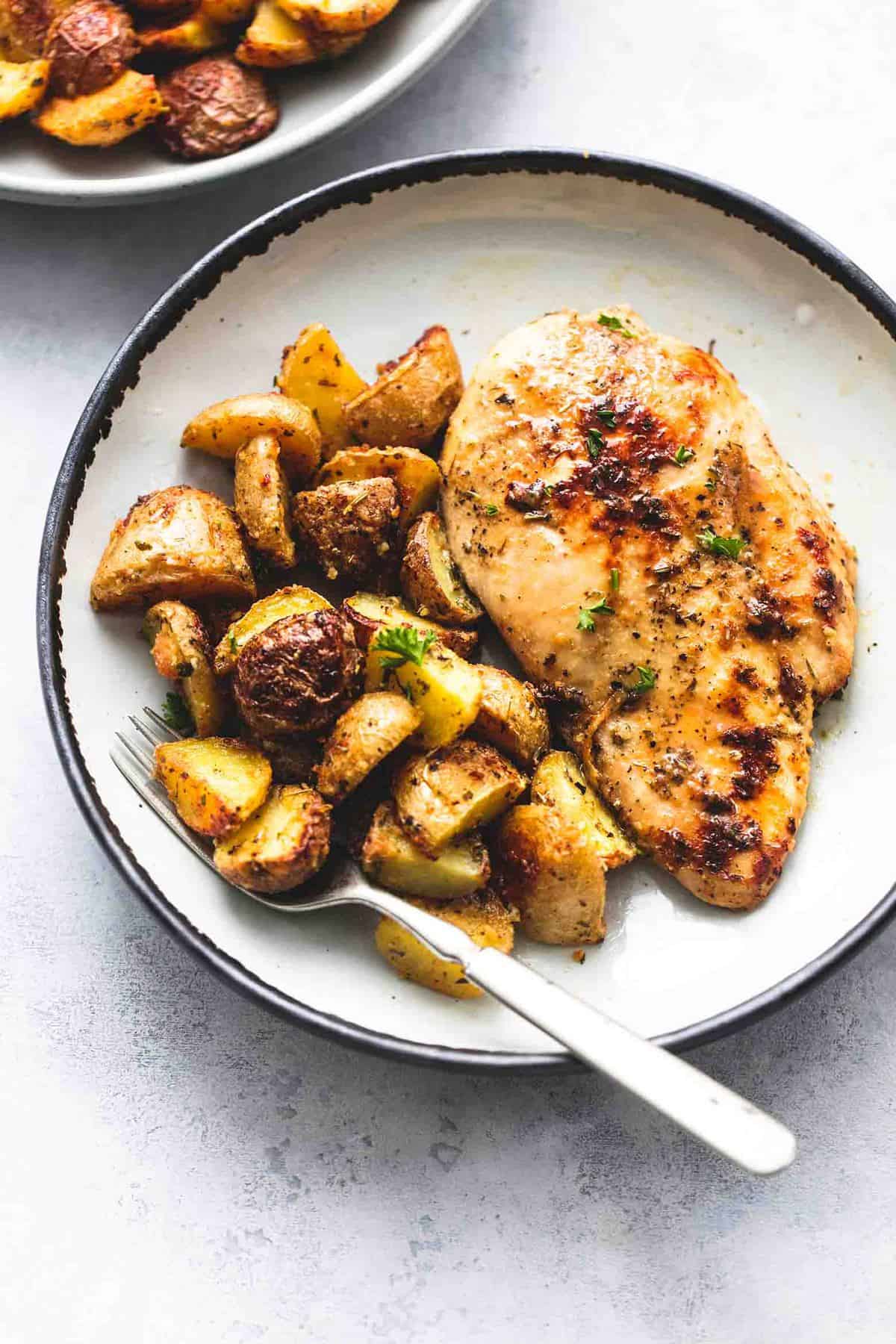 Homemade Ranch Seasoning
If you've gone to your pantry and realize you're all out of ranch seasoning or you just want to make your own with what you have on hand, then mix up the following in a bowl before adding to chicken:
Half a cup of buttermilk (or sour your milk with 1 teaspoon of vinegar in half a cup of milk before adding to the mixture), 1 tablespoon each of dried parsley, sea salt, ground black pepper, and dried chives. Also add 1 tablespoon each of dried dill, garlic powder, and onion powder.
You could also go ahead and make a big batch of the dry ingredients and store it in a spare spice jar for your own ranch seasoning in a pinch!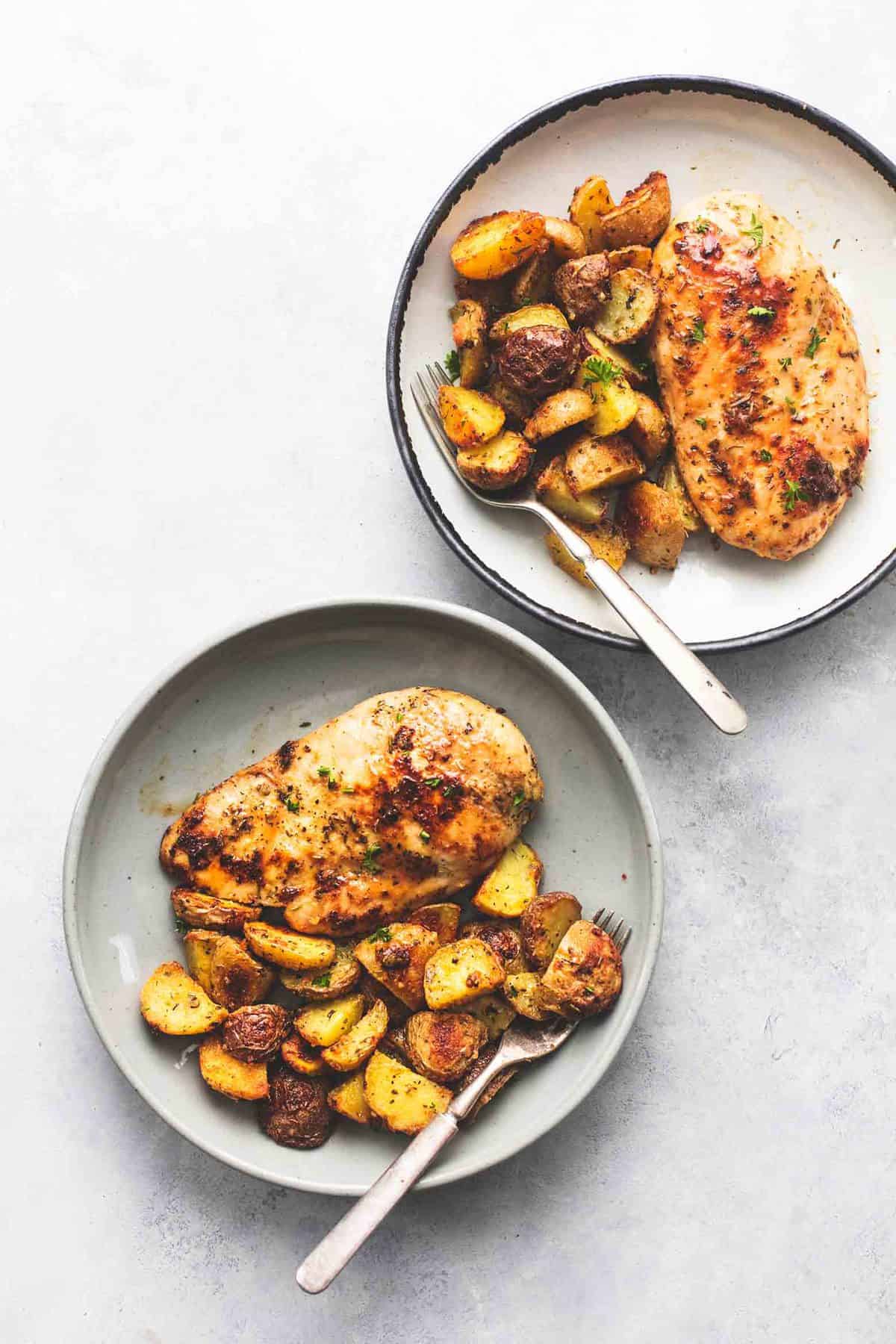 When I say this recipe is as easy as it is delicious, I mean it. And I also mean business when I tell you that it is 100 percent picky eater approved because my husband and twin three year olds are my toughest critics and even they will down this meal and beg for seconds. The good news is that you won't mind making on the regular because it's quick, budget-friendly with just five ingredients, and involves one pan for minimal cleanup.
Sweet hallelujah.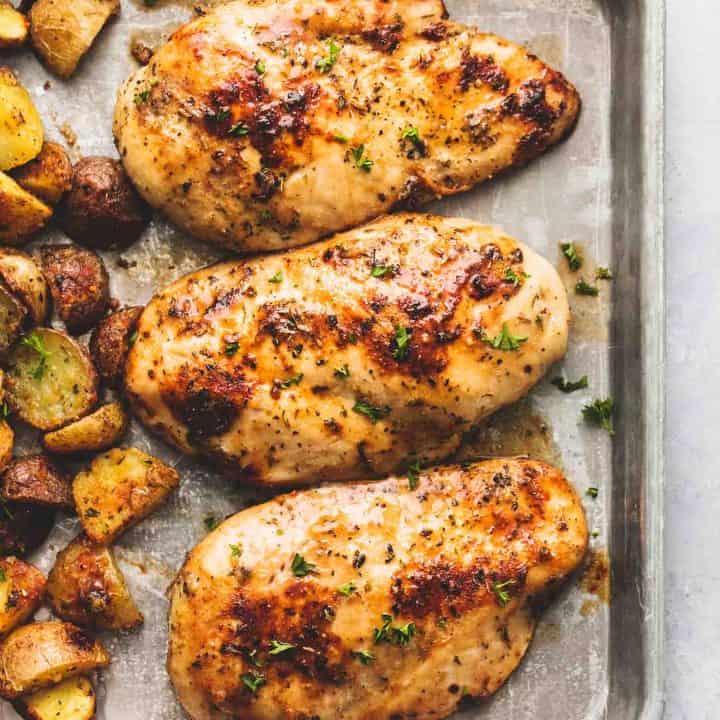 Sheet Pan Chicken and Potatoes (Five Ingredients)
This 5-Ingredient Sheet Pan Chicken and Potatoes takes two common dinner items to next-level deliciousness — all in one pan for easy cleanup!
Ingredients
4

boneless skinless chicken breasts

-

or 4-6 boneless thighs

1 ½-2

pounds

baby red and/or gold potatoes

¼

cup

oil

salt and pepper to taste

3

tablespoons

dry Ranch seasoning mix

-

(about two packets)

2

teaspoons

garlic powder

¼

cup

grated parmesan cheese

-

(shredded or from the green can)
Instructions
Preheat oven to 425 degrees and pound chicken breasts to even thickness (less than 1 inch throughout). Grease a large sheet pan and set aside.

Arrange chicken and potatoes on prepared pan in a single layer. Drizzle with oil and toss to coat. Season generously with salt and pepper, Ranch seasoning, and garlic powder. Toss to coat well. Sprinkle parmesan over the potatoes.

Bake for 15 minutes, then switch to broil for 3-5 minutes until potatoes are crispy and chicken is browned. (Watch carefully so it doesn't burn). Garnish with parsley if desired and serve.
Notes
For added color, brown the chicken in a lightly oiled skillet over medium-high heat for 1-2 minutes on each side before transferring to a sheet pan and baking in the oven. 
Nutrition
Calories:
544
kcal
,
Carbohydrates:
31
g
,
Protein:
54
g
,
Fat:
22
g
,
Saturated Fat:
3
g
,
Trans Fat:
1
g
,
Cholesterol:
150
mg
,
Sodium:
369
mg
,
Potassium:
1578
mg
,
Fiber:
4
g
,
Sugar:
1
g
,
Vitamin A:
125
IU
,
Vitamin C:
36
mg
,
Calcium:
102
mg
,
Iron:
2
mg