Easy chicken, sausage, and shrimp Sheet Pan Jambalaya is a tasty one pan recipe that combines everything you love about this delicious Cajun classic at home with very little clean up!
For more simple sheet pan recipes like this one, try my Sheet Pan Chicken and Potatoes, Sheet Pan Teriyaki Chicken and Pineapple Fried Rice, or Sheet Pan Lemon Herb Tuna Steaks And Potatoes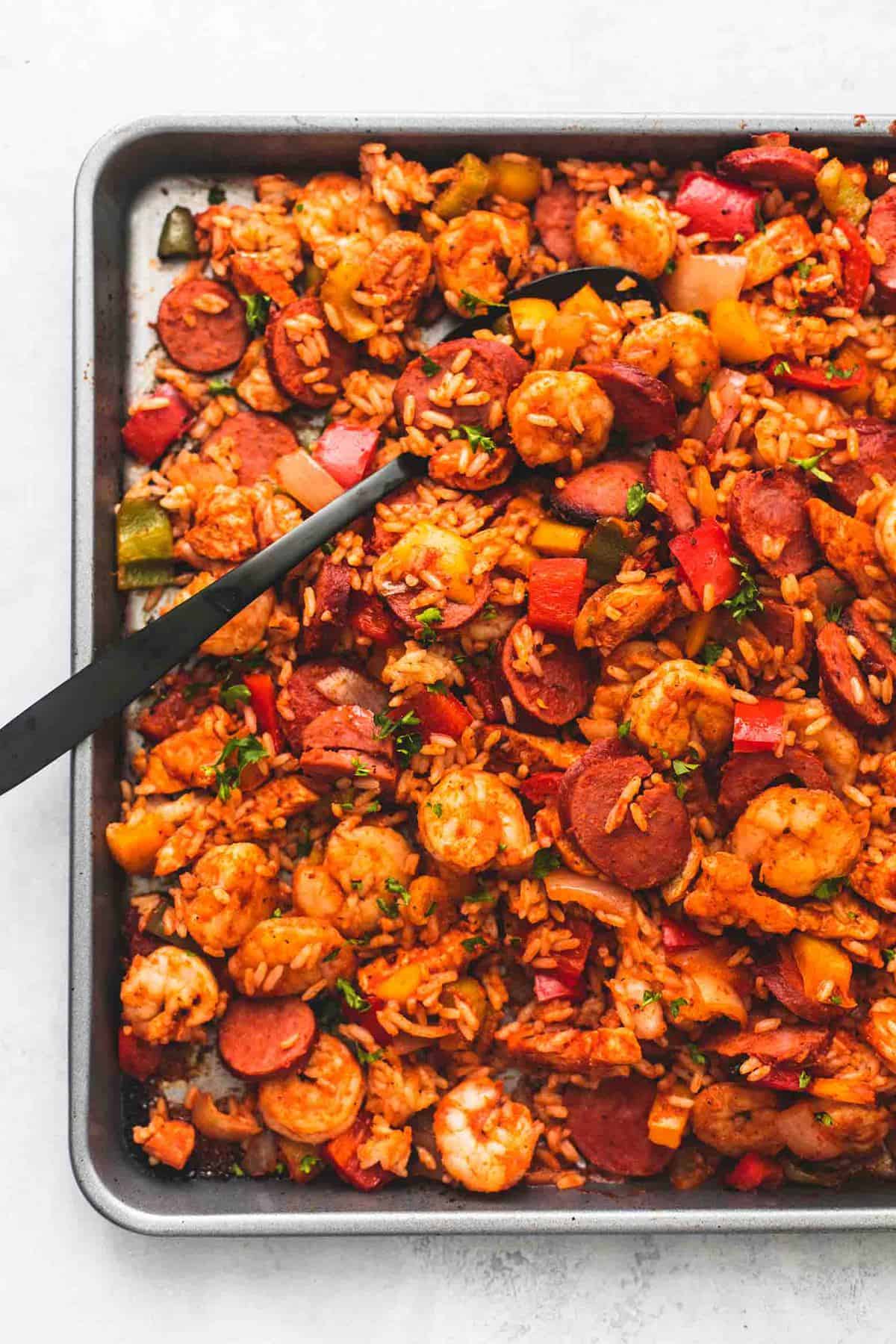 There's just something about Cajun recipes that does it for me. (Like my Cajun Grilled Salmon recipe.) The mixture of seafood, sausage, and chicken paired with a spice blend that's both firey and deeply flavorful, is, in my mind, one of the most perfect all-in-one dishes. Anything you can make in one sheet pan that has this much flavor and requires little clean up is a winner in my book.
For this dish, I decided to use andouille sausage and shrimp, which are a part of the traditional jambalaya recipe. But then, instead of crawfish I substituted chicken. Why? Well, I bet you can guess. First of all, it's not easy for me to obtain crawfish here in Utah. Second, I'm assuming you don't have too many places to find them in your neck of the woods either. (But, if you do, then you should definitely add them to this dish.) Third, chicken is easy to obtain and, when cut into one-inch pieces, it will cook up in the same amount of time it takes to cook the shrimp and heat up the sausage. And that's mainly what you're looking for here, and in most sheet pan recipes. You want everything to be done at the same time. Since shrimp cook up fast, then you need other pieces of meat or protein that cook up in the same amount of time or you'll have some rubbery shrimp or uncooked chicken.
Mixing in the spices, tomatoes, bell peppers, celery, and jalapenos to that protein trifecta all on the one sheet pan? Well, that's just going to be heaven on your plate, right there. Trust me — you'll have zero leftovers.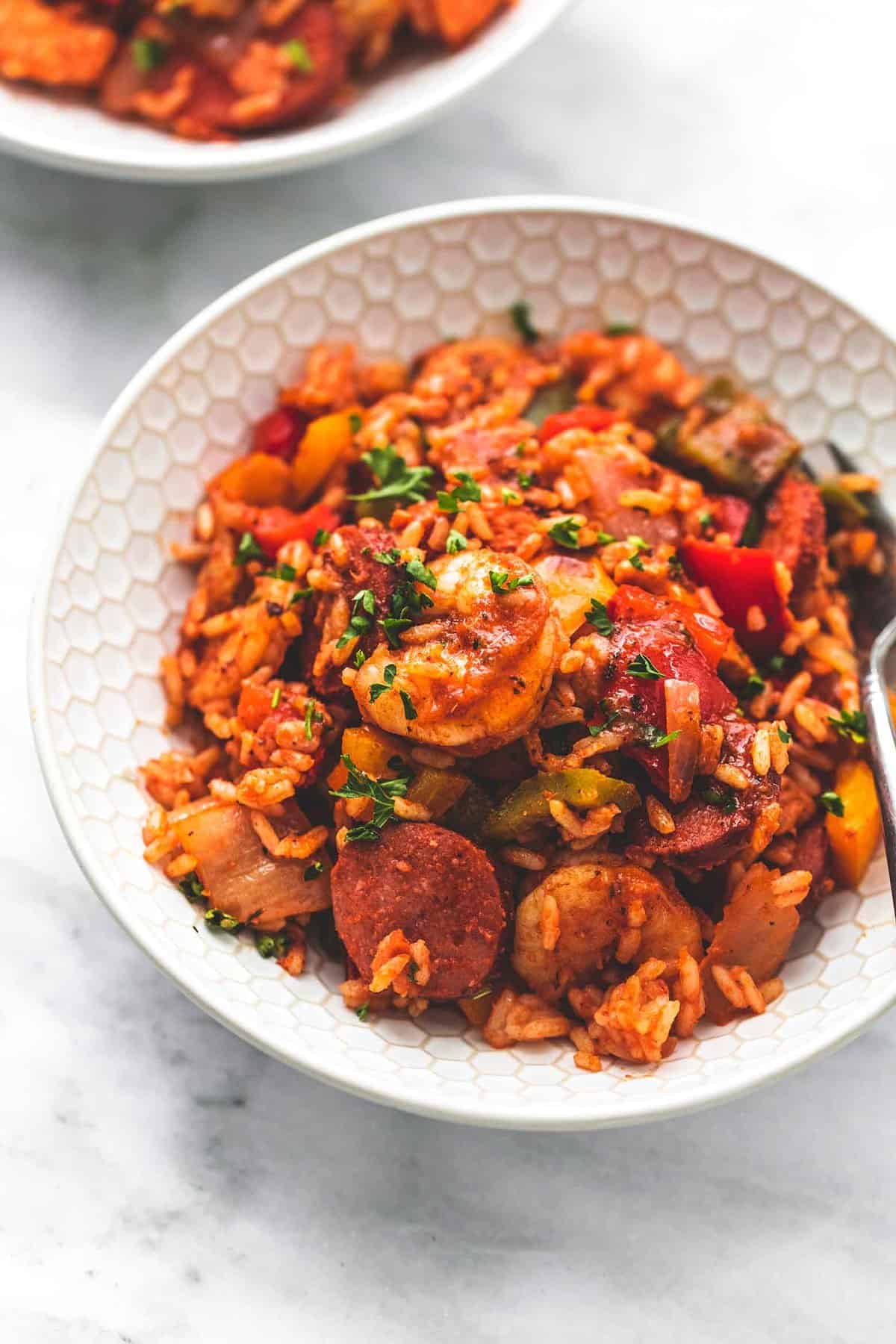 WHAT IS JAMBALAYA?
You've surely heard of Jambalaya, and probably also eaten it at some point in your life. But what is it? With origins in Spain, West Africa, and France, you could say it's one of those meals that's been passed on by generations and tweaked here and there until it landed in Louisiana and brought the dish to the Americas. It typically includes sausage (usually andouille), seafood (like crawfish or shrimp or both) and another protein (like chicken or pork). Vegetables include a mixture like the French mirepoix, but this version contains onion, celery, and green bell pepper. From there, seasonings are added, along with other vegetables, rice and some broth or other liquid to bring it all together.
Since we're working with a sheet pan here I tweaked the recipe for myself and decided on pre-cooked rice to make this dish even simpler. But you can cook rice yourself while your jambalaya is cooking in the oven. Either way, it's going to be delicious!
HOW DO YOU MAKE CAJUN SEASONING?
You can certainly buy a pre-made Cajun seasoning mix in your grocer's spice aisle. Or, you can make your own! I like to make a big batch of this seasoning and sprinkle it on everything — it's so amazing on store-bought fries or roasted potatoes! Something to keep in mind.
To make my own cajun seasoning, I mix together the following ingredients:
1 teaspoon salt

1 teaspoon garlic powder

1 1/2 teaspoons paprika

1/2 teaspoon cracked black pepper (1/4 teaspoon finely ground black pepper)

1/2 teaspoon onion powder

1/2 teaspoon cayenne pepper

1/2 teaspoon dried oregano

1/4 teaspoon crushed red pepper flakes
To store the spices, I just use an old glass spice jar I have saved from other seasonings. Use a small funnel to add spices easily to jar if you have one. If not, a rolled-up piece of paper works well too! Be sure to label and date your homemade spices so you know when they will expire. (You have about 2-3 years to use those spices up though!)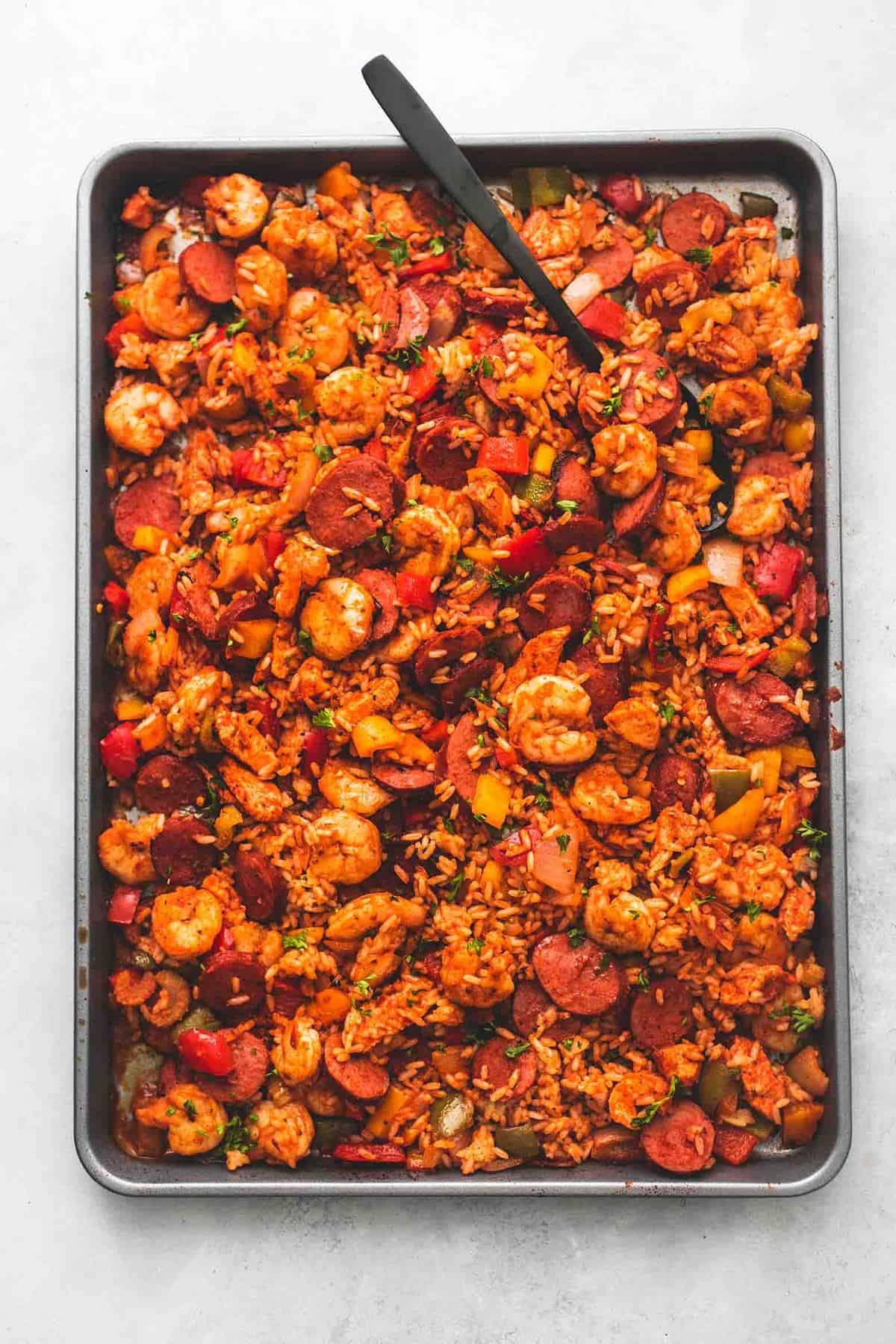 WHAT IS THE BEST WAY TO CLEAN A COOKIE SHEET OR SHEET PAN?

I get asked this a lot. I mean, if we're going to be cooking a lot of sheet pan meals, then we have to know how to get off all that stuck on food and sauces, right? (Sheet pan desserts are also great! For an idea try my Sheet Pan Peach Crips!)
The first thing I do to help keep my sheet pans clean is to soak it right away, after I'm done using it and the food is gone. I find that this helps loosen the bigger pieces of stuck-on food anyway. I soak it for a good couple of hours or overnight and then wash as usual.
If you have a particularly grimy sheet pan, try an easy fix using baking soda. I sprinkle baking soda on the sheet, making sure to cover the entire bottom of the pan. After that is good and coated, add hydrogen peroxide and then more baking soda on top. Set it aside for a couple hours and let it do the scrubbing for you. Rinse off and dry as usual. One note: If you have a sheet pan made of a different material or covered with a non-stick coating, this might do more harm than good. Do a test spot to make sure you're not going to ruin your pan first.
Of course, one way to keep your sheet pan from getting too dirty is to lay down aluminum foil or parchment paper first before adding your ingredients. It won't keep everything off the pan but it will help immensely!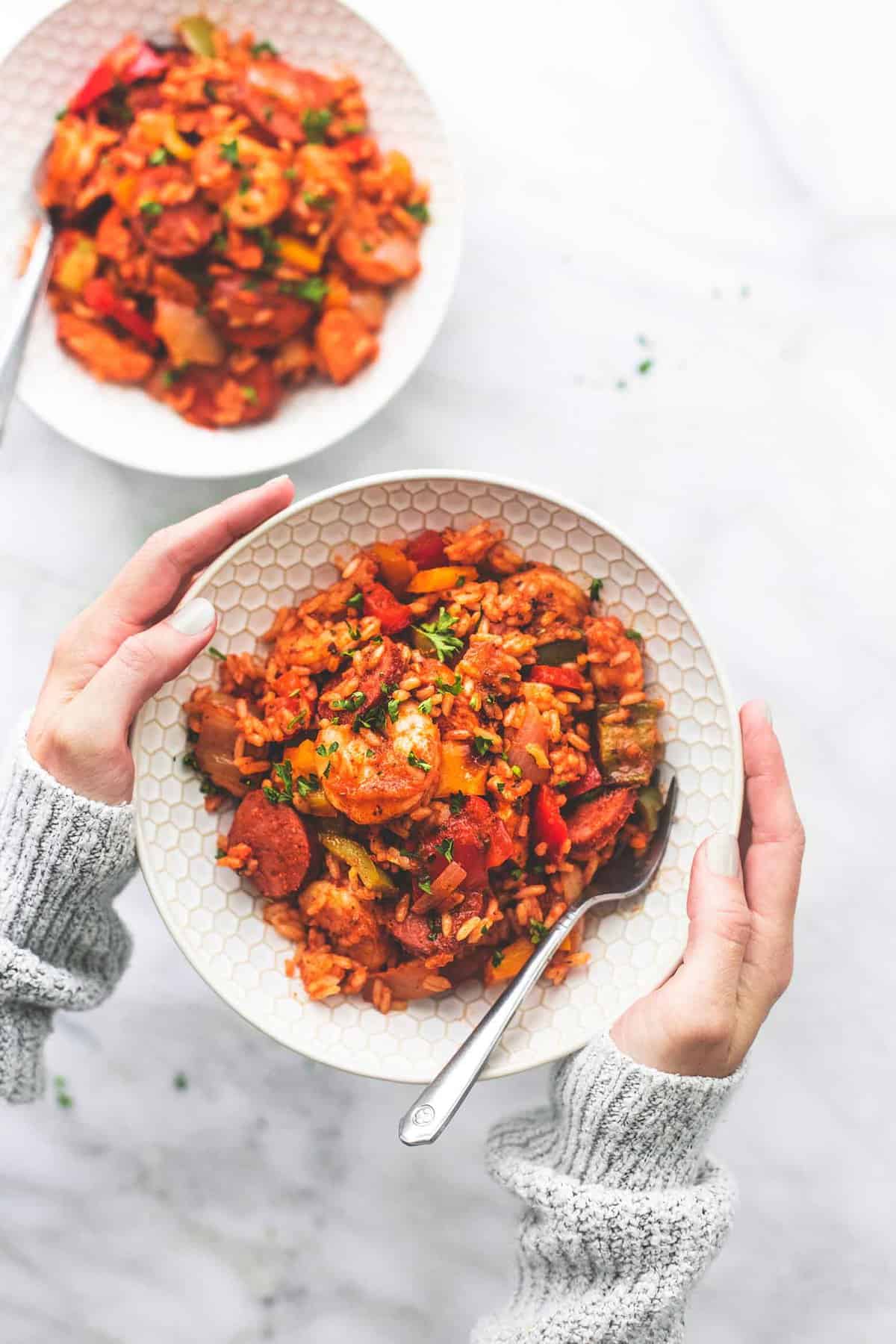 Try this Slow Cooker Jambalaya next!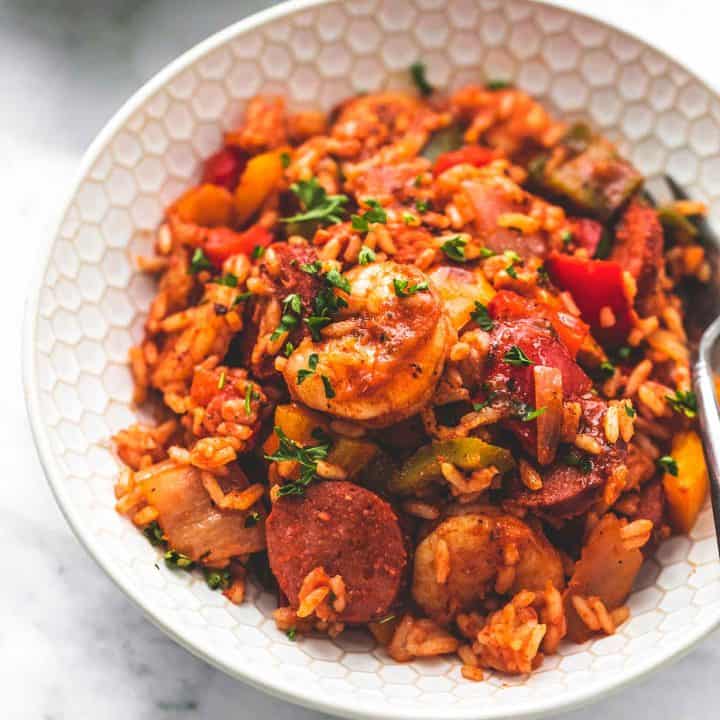 Sheet Pan Jambalaya
Easy chicken, sausage, and shrimp Sheet Pan Jambalaya is a tasty one pan recipe that combines everything you love about this delicious Cajun classic at home with very little clean up!
Ingredients
3

boneless skinless chicken breasts

-

cut into 1-inch pieces

1

pound

andouille sausage

-

sliced into ¼ inch rounds

2

bell peppers

-

cored and chopped (I used red, yellow, and green)

3

celery ribs

-

chopped

1

jalapeno pepper, seeds and stem removed, finely diced

2

tablespoons

oil

1

pound

medium or large raw shrimp

-

peeled and de-veined

1

14-ounce

can crushed tomatoes

4

teaspoons

cajun seasoning

-

see notes for my DIY version!

2

cups

cooked white rice

-

cook your own, or ready rice works great!
Instructions
Arrange chicken, sausage, bell peppers, celery, and jalapenos on the pan and drizzle with oil. Toss to coat, then sprinkle with 2 teaspoons of the cajun seasoning and toss again to coat. Make sure it is all spread out into a single layer on the pan before transferring to the oven to cook for 10 minutes.


Add shrimp, crushed tomatoes, rice, and remaining 2 teaspoons cajun seasoning to the pan, toss well, and return to oven for 5-7 minutes until shrimp is pink and cooked through.

Add salt and pepper to taste if needed, garnish with chopped cilantro or parsley (optional) and serve.
Notes
For DIY cajun seasoning stir together:
1 teaspoon salt
1 teaspoon garlic powder
1 1/2 teaspoons paprika
1/2 teaspoon cracked black pepper (1/4 teaspoon finely ground black pepper)
1/2 teaspoon onion powder
1/2 teaspoon cayenne pepper
1/2 teaspoon dried oregano
1/4 teaspoon crushed red pepper flakes
Nutrition
Calories:
788
kcal
,
Carbohydrates:
28
g
,
Protein:
66
g
,
Fat:
44
g
,
Saturated Fat:
12
g
,
Trans Fat:
1
g
,
Cholesterol:
435
mg
,
Sodium:
2023
mg
,
Potassium:
1015
mg
,
Fiber:
3
g
,
Sugar:
3
g
,
Vitamin A:
3055
IU
,
Vitamin C:
83
mg
,
Calcium:
212
mg
,
Iron:
5
mg