These Zucchini Bread Muffins are so moist, tasty, and flavorful, and are a great way to use up all that fresh, farmers market zucchini that's in season right now.
If you're in the mood for more sweet zucchini recipes, you've gotta try my Lemon Poppy Seed Zucchini Bread, Zucchini Cookies with Cream Cheese Frosting, and Cinnamon Swirl Zucchini Bread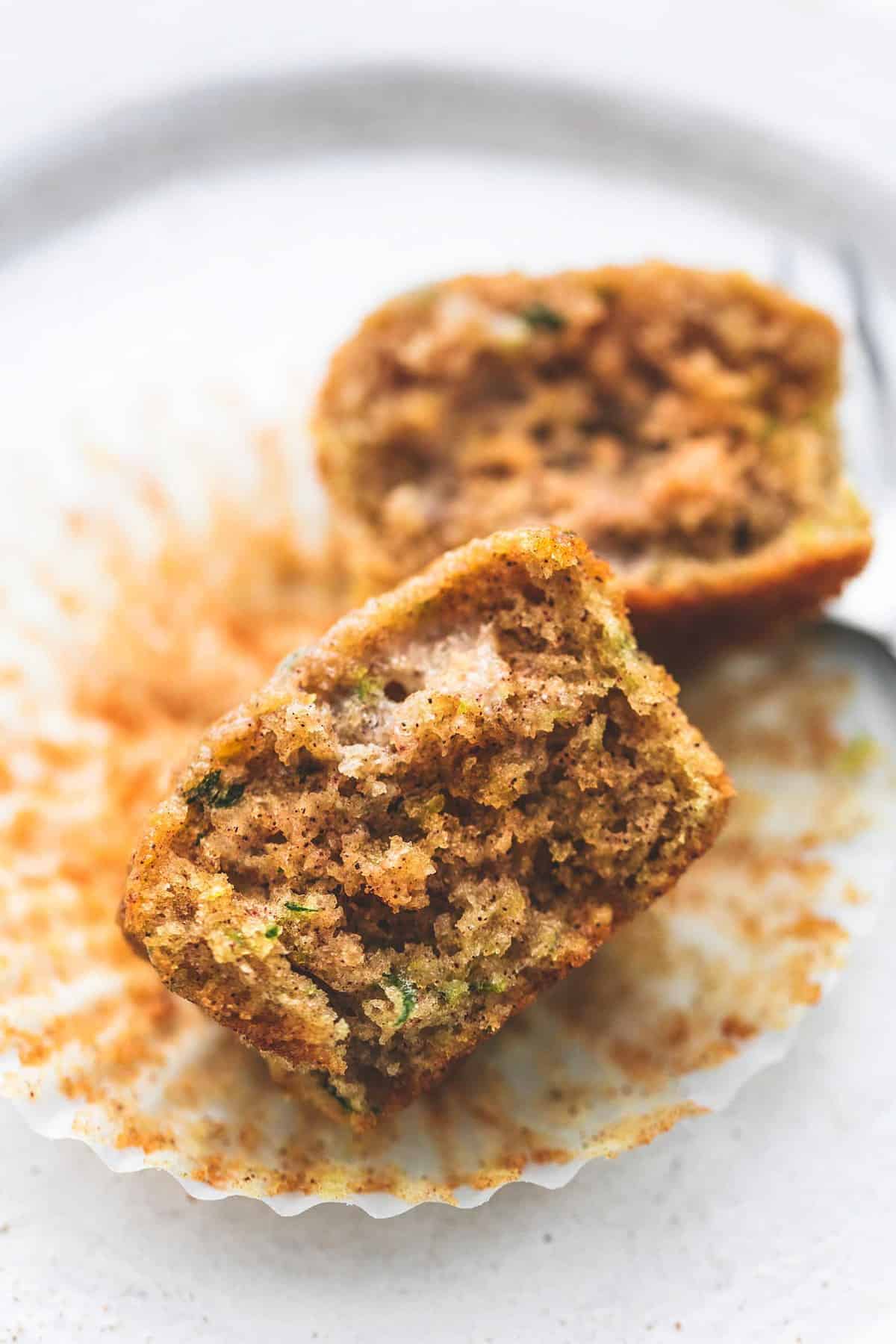 It's that time of year when I get the urge to bake. I know, I know, it's not fall for a while yet, but the weather has shifted
ever so slightly
in that direction and it's like my mind has this imperceptible shift while I'm sleeping or something. I wake up with all the baking on my mind.
Cookies (for a chocolate chip recipe, try my Double Chewy Chocolate Chip Cookies)
,
cakes
,
breads
, and of course,
muffins
. (For recipe suggestions try my Caramel Pecan Pumpkin Cheesecake, Cream Cheese Frosted Pumpkin Bread, Breakfast Muffins.)
The farmers market is still in full swing just down the street from me and I am always sure to go if I can to load up with all that fresh produce every week. Right now there is an abundance of zucchini, which is fine with me because I can easily combine my desire to bake with my desire to use up my veggie overstock before they go bad. 
Zucchini muffins are easy to make (and even easier to eat, like, maybe three or more in a sitting, so consider yourself warned). Plus, the kiddos just love them for breakfast, snacks, lunch, more snacks, and as a side for dinner. Sometimes we can even get by with pawning them off as a dessert!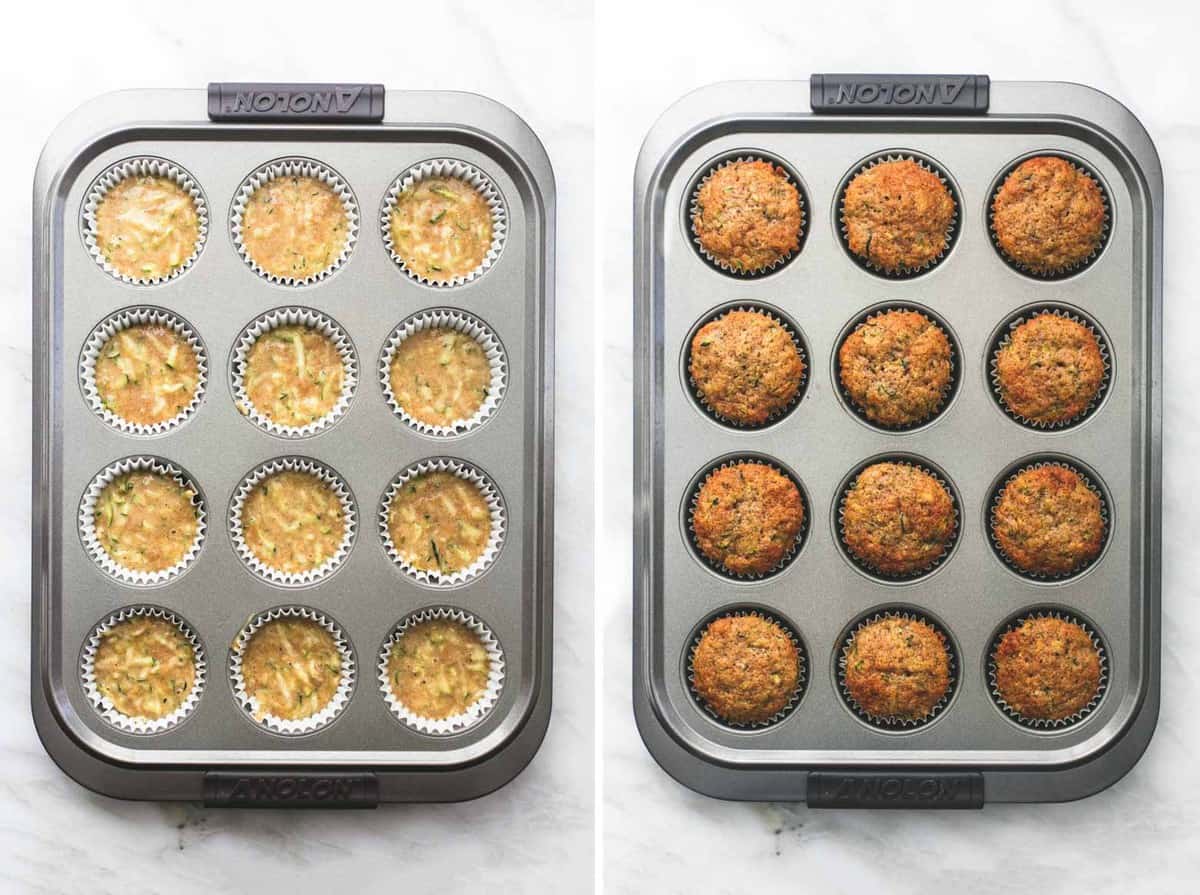 ARE ZUCCHINI MUFFINS HEALTHY?
I'll be honest with you. Most baked goods, unless stated otherwise, aren't as good for you as eating, say, an apple. However, most baked goods made at home ARE better for you than the packaged goods you buy at the store. Why? Well, because the baked goods you make at home have a shorter expiration date, which is a nice way of saying they are not packed full of preservatives that make them shelf-stable for months (or longer). 
Plus, these zucchini bread muffins aren't overdoing it with the sugar and other ingredients aren't terrible for you, either. Plus, you get all the vitamins and minerals contained in the zucchini that you wouldn't get from, say, a chocolate chip muffin. 
If you want to make these muffins even healthier, you can bring the sugar down to ¾ cup and use ⅓ cup of applesauce instead of oil. You can also use whole wheat flour instead of white flour but to be honest, I'm not super well-versed in cooking with wheat flour so follow the manufacturer's directions when substituting that one.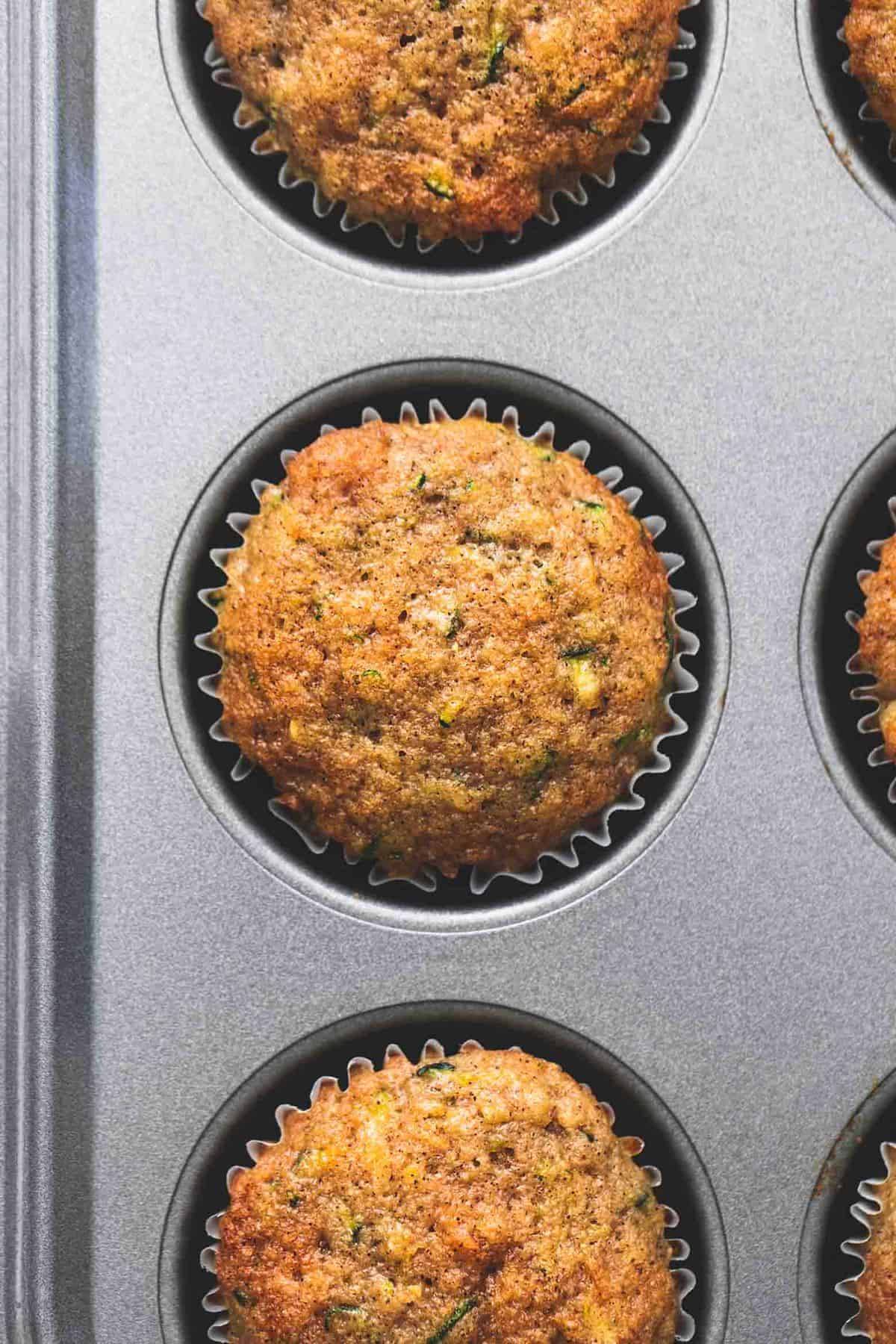 HOW DO YOU STORE ZUCCHINI BREAD MUFFINS?
If, by any small chance, you have any of these muffins left after baking them (or you're smart and make a double batch right off the bat), you can easily store them for later feasting. 
Place the muffins in a single layer in an airtight container and leave them on the counter up to three days. If you won't eat them within the three-day window, then put them in the fridge. They will last up to a week if kept refrigerated. 
If you want to freeze a batch for later gorging, then I suggest placing the muffins in a single layer on a baking sheet or tray into the freezer until they are frozen all the way through. Then transfer them to a resealable freezer bag for easier storage.  
HOW CAN I CUSTOMIZE ZUCCHINI BREAD MUFFINS? 
If you'd like to mix up the muffins in other ways beyond making them healthier, you've come to the right place. Other ways I've experimented (with good results, of course) is to: 
Hand mix in a half cup of mini chocolate chips to the muffins right before baking. 

If you like a little crunch in your muffins, consider adding a half cup to a cup (depending on how nutty you like your muffins) of chopped walnuts, pecans, or pistachios to the mixture before baking. 

Another fun way to make these zucchini bread muffins is to add in coconut, craisins, raisins, or dried (chopped) apricots, or another dried fruit that you enjoy. Start with half a cup to a cup and see if you like that amount before adding more. Don't get too crazy adding in everything or the muffins won't bake correctly and will be nothing but chewy. 

If you'd like them to be even more sweet, you can drizzle

cream cheese frosting

over the tops of the muffins after they come out of the oven. 

Make Zucchini Bread…bread. If you don't have a muffin tin, don't feel like making muffins or just prefer bread, then you can do that. Make this batter as directed, then cook at 350 for 45-60 minutes or until a toothpick inserted into the middle comes out clean. 

Add

lemon and poppy seeds

for a delicious zucchini muffin treat. 

If you want to get a little crazier with the spices, try substituting cardamom for the cinnamon. Or mix the cardamom with the cinnamon and ginger and call it Chai-zucchini bread muffins.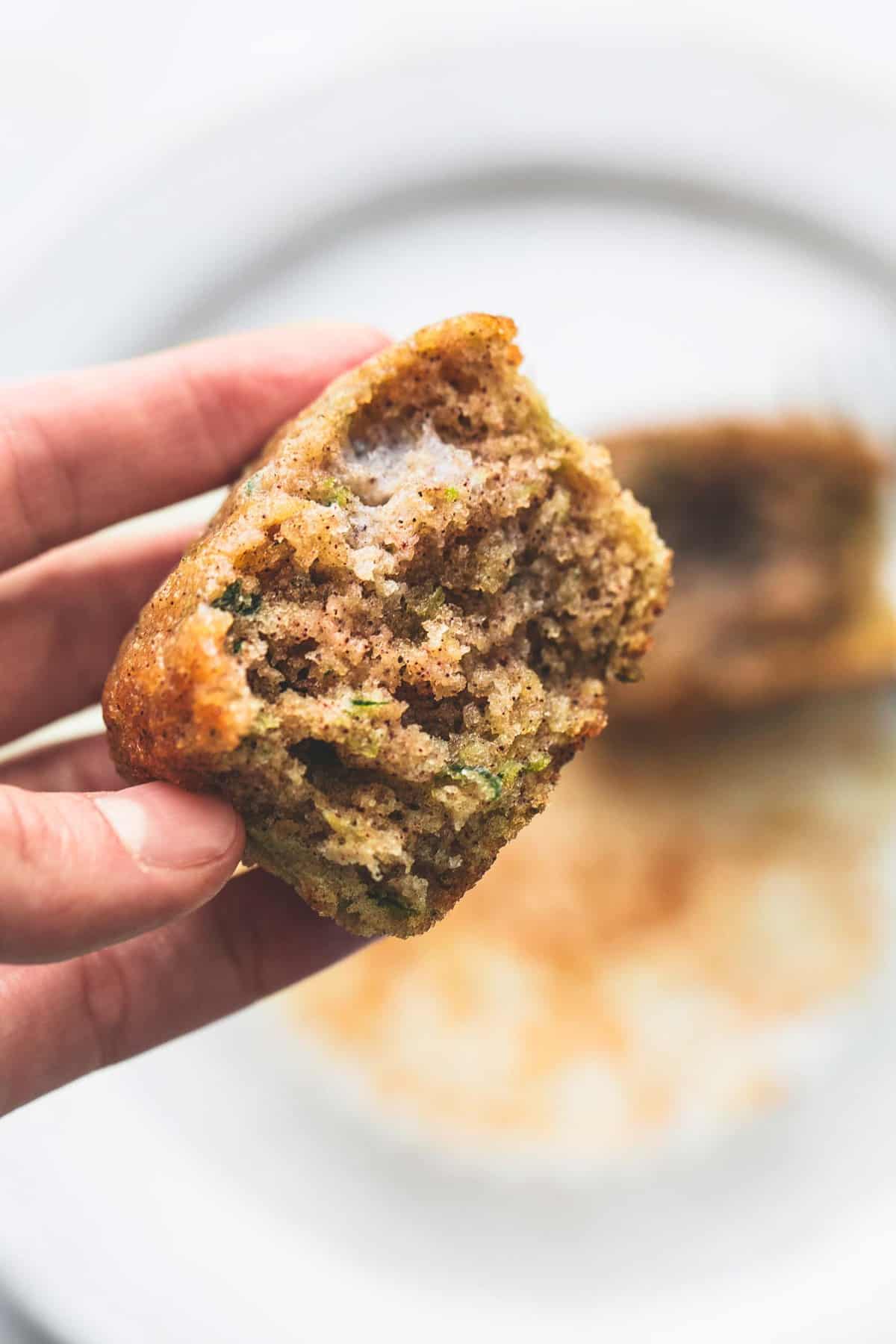 What people are saying about these Zucchini Bread Muffins
"This has been the best zucchini recipe I've tried & I've tried six! From the ingredients list I didn't think much of it but it tastes delicious. As a disclaimer I made zucchini bread instead of [muffins]. However the bread was moist and sweet. It did take about 20 minutes longer to bake, fyi. This recipe is a keeper!!!" – Michelle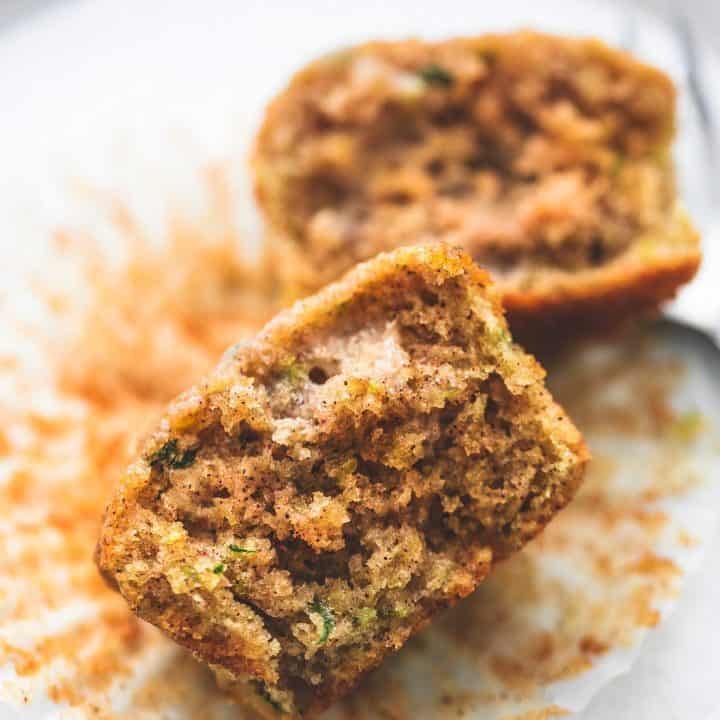 Zucchini Bread Muffins
These Zucchini Bread Muffins are so moist, tasty, and flavorful, and are a great way to use up all that fresh, farmers market zucchini that's in season right now.
Ingredients
1 ½

cups

flour

1

cup

sugar

1

teaspoon

cinnamon

½

teaspoon

baking powder

½

teaspoon

baking soda

½

teaspoon

salt

2

large eggs

-

at room temperature

½

cup

oil

1

teaspoon

vanilla

2

cup

finely grated unpeeled zucchini
Instructions
Preheat oven to 350 degrees and grease or line a muffin tin with paper liners.

In a large bowl, whisk together flour, sugar, cinnamon, baking powder, baking soda, and salt.

Whisk eggs into oil, then stir in vanilla. Stir wet ingredients into dry ingredients until just combined (mixture will be very thick and somewhat dry).

Fold zucchini into batter until incorporated.

Fill muffin tins 3/4 full.

Bake for 20-22 minutes until an inserted toothpick comes out clean.

Store at room temperature in airtight container up to 5 days or wrap individually with plastic wrap and store in the fridge or freezer up to 3 weeks. Serve at room temperature or pop them in the microwave for a few seconds and slather on a bit of butter.
Notes
Flavor tip: add chocolate chips!
Nutrition
Calories:
219
kcal
,
Carbohydrates:
30
g
,
Protein:
3
g
,
Fat:
10
g
,
Saturated Fat:
1
g
,
Trans Fat:
1
g
,
Cholesterol:
27
mg
,
Sodium:
173
mg
,
Potassium:
82
mg
,
Fiber:
1
g
,
Sugar:
17
g
,
Vitamin A:
81
IU
,
Vitamin C:
4
mg
,
Calcium:
21
mg
,
Iron:
1
mg