Perfectly smooth and creamy No Bake Cheesecake. If you love cheesecake but hate the time involved in making it then this no-bake cheesecake is for you! Creamy, airy, rich, and delicious with a graham cracker crust — and only 30 minutes of prep work!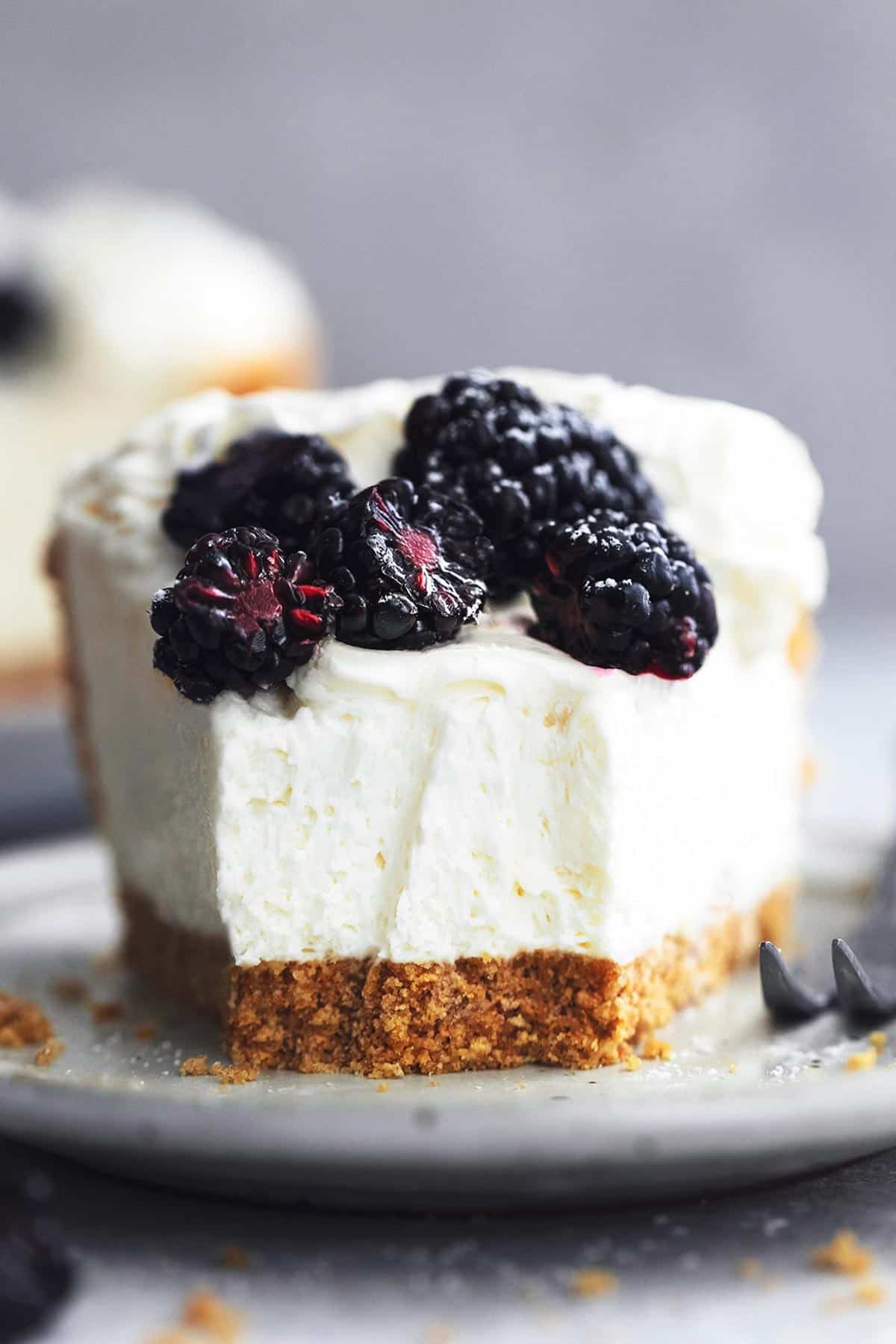 For more delicious no-bake recipes, head on over to my popular posts for Copycat Reese's Creamy Peanut Butter Eggs, Easy 4 Ingredients Soft Caramels, and No Bake Frozen Peanut Butter Pie.
I love me some cheesecake. But I hate the time it takes to bake it. I've seen recipes that require a water bath, close watching of the baking process, adding foil tents if it starts to burn… I mean, I love cheesecake but not THAT much. So I always turned to store-bought. That is, until I tried a no bake cheesecake and realized how deliciously simple one of my dessert addictions could be!
With only 30 minutes of prep work, and a few hours in the fridge, the only thing you'll need to plan for is how to kill that chilling time while you wait for your cheesecake to be ready to dig into!
Why This Recipe Works
No oven required — That's right. Don't even go near your oven for this one. You'll get the same delicious cheesecake without having to go through all the other unnecessary steps, like silly baking.
Simple ingredients — Cream cheese, heavy cream, sour cream, sugar, and vanilla make up the bulk of the filling. All things you probably have on hand or can easily get at the grocery.
Buttery crust — The crust? Well, it's buttery, graham-crackery, and no bake too! Just mix the ingredients together, press into your pie pan and freeze to set while you make the filling.
Perfect for sharing — That is of course, if you want to. As much as I love cheesecake, I love it even more when I can share it with those I love. This easily makes 12 servings. More if you like smaller slices, less if you like your piece of the pie on the bigger side.
How to make No Bake Cheesecake
Preparing the crust
First, stir together the crushed graham crackers, melted butter, and brown sugar together (photo #1).
Then press the mixture into the bottom of a 10-inch springform pan. Really use your fingers or the back of a spoon to press the mixture firmly into the pan so that it doesn't crumble when you cut and serve it (photo #2).
Put the crust in the freezer for 10-20 minutes.
Preparing the cheesecake filling
Whip the cream in a large bowl (preferably a glass bowl) by hand or with an electric mixer until stiff peaks form. (Alternately, this can also be done in a stand mixer OR if you're tight on time you can substitute cool whip topping in place of this homemade whipped cream) (photo #3).
In another bowl, cream together the sugar and cream cheese, then mix in the powdered sugar, sour cream, and vanilla (photo #4).
Add this filling to the frozen pie crust. Use a spatula or the back of a spoon to smooth the filling on top evenly (photo #5)
Put in the fridge (not freezer) 4 hours or overnight.
Top with your favorite toppings such as fresh fruit, and the whipped cream, slice, and serve (photo #6).
Expert Tips
I prefer to use full-fat cream cheese for it's thickness and richness, but you can also reduced fat if you like.
I love this recipe as written – light on the tang with just a little sour cream, but if you prefer your cheesecake a little more tart, then all you need to do is add 1-2 teaspoons fresh-squeezed lemon juice to the filling mixture.
Be sure to just let the cheesecake set in the fridge and not the freezer. If you pop it into the freezer, it can chill too quickly and crack, cake, or even get a little lumpy.
If you want to freeze the cheesecake after it's made though, take it out of the springform pan and either wrap individual slices or the entire cake in plastic wrap, then aluminum foil to keep it fresh. Thaw in the fridge when you're ready to eat it.
Recipe FAQs
What Flavors Go Well With Cheesecake?
While this cheesecake is delicious on its own, I love to add all sorts of toppings to round it out. Some of my favorites include:
– Strawberries. Make this simple strawberry syrup to pour over your cheesecake along with fresh cut strawberries.
– Other fresh berries (blueberries, raspberries, blackberries) go great on top of the cheesecake too, just make – the syrup with whatever berries you like!
– Another topping I like to use in the fall is a fresh apple compote.
– For a non-fruity way to rock your cheesecake, try topping with hot fudge, chocolate chips, chocolate shavings, or a cocoa powder dusting for just a hint of chocolate.
– For one less thing to make, top your cheesecake with cherry pie filling or lemon curd. Both of these items can be found already made in your grocery's baking aisle.
– A caramel or butterscotch topping work great too.
– For the holidays, I like to make this cheesecake with a teaspoon of peppermint extract in with the cheese, then top with hot fudge and crushed candy canes.
– For that matter, you can take any of your favorite candy bars or candy and crush and add to the top of this cheesecake. Add to the top and press the candy in before refrigerating to ensure they stick to the top.
What Is the Difference Between New York Cheesecake and Regular?
The difference is that regular or classic cheesecake is made with heavy cream and sour cream to be a little tangier and creamier. A New York cheesecake is all about the cream cheese which makes it so dense. I prefer a combo of the two, cream cheese for heaviness and taste and sour cream for a bit of tang and to smooth the filling out a bit. You may also have heard of a Philadelphia cheesecake. That's a cheesecake made with cream cheese, or more specifically, Philadelphia cream cheese and is a marketing ploy by the Philadelphia cream cheese people to make more money. They can be used interchangeably.
Is No-Bake Cheesecake Better Than Baked Cheesecake?
I think no-bake cheesecake is better than baked cheesecake because, frankly, you don't have to bake it, which is one less step which makes it taste that much sweeter, ya know?
 
But, if we're talking purely taste (and not taste tainted by less effort), then the truth is they both taste nearly the same. Truly, I'm not just saying that. The main difference is not the taste so much as the texture. A baked cheesecake has a smoother, creamier texture, and it's usually a bit more moist and fluffy.
 
But no-bake cheesecake will have a mousse-like or pudding-like texture and it's a little softer. But who's to say it's not better? I think you should try both and see for yourself.
How Long Does it Take for a No-Bake Cheesecake to Set?
No-bake cheesecake only takes about 4 hours to set up in the fridge, but you can leave it as long as overnight. If you want it for dessert, go ahead and make the cheesecake in the morning or early afternoon to assure it'll be ready by the time dessert rolls around.
More Amazing Dessert Recipes
Did you make this super easy no bake cheesecake recipe? YAY! Please rate the recipe below!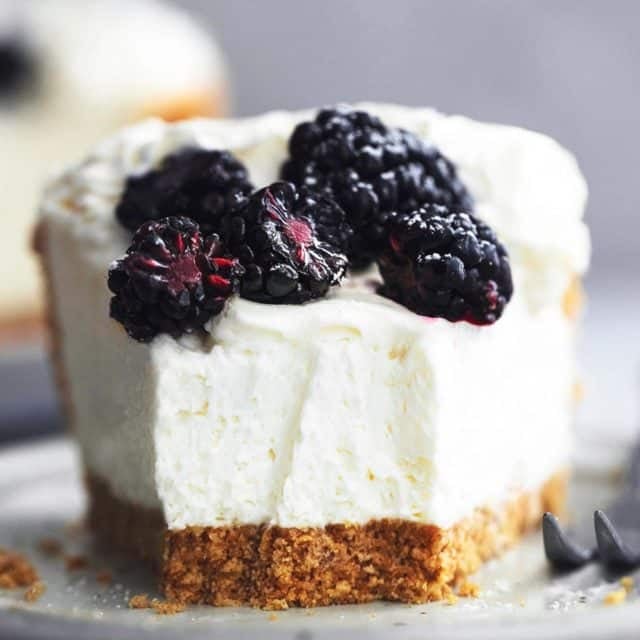 No Bake Cheesecake Recipe
Perfectly smooth and creamy No Bake Cheesecake. If you love cheesecake but hate the time involved in making it then this no-bake cheesecake is for you! Creamy, airy, rich, and delicious with a graham cracker crust — and only 30 minutes of prep work!
Ingredients
For the Crust
3

cups

graham cracker crust

½

cup

brown sugar

-

packed

¾

cup

salted butter

-

melted
For the Filling
1 ½

cups

heavy cream

-

very cold

3

8-ounce blocks

cream cheese

½

cup

sugar

2/3

cup

powdered sugar

1

teaspoon

vanilla

1/4

cup

sour cream

-

at room temperature
Toppings
1

cup

fresh berries

spray whipped cream

-

as desired

strawberry or raspberry sauce

-

as desired
Instructions
Prepare the Crust
Stir together graham cracker crumbs, brown sugar, and melted butter.

Press mixture firmly (this is important to make sure the crust doesn't fall apart!) into bottom of a 10-inch springform pan. Freeze for 10-20 minutes while you prepare the filling.
Prepare the Filling
In a glass bowl, whip cream (this is quicker and easier with an electric mixer but can be done by hand) until stiff peaks form.

In a second bowl, cream together cream cheese and sugar. Mix in powdered sugar, vanilla, and sour cream. Add and mix in whipped cream.

Scoop filling into frozen crust and use a spatula or spoon to smooth out the top into an even layer.

Chill in fridge (do not freeze) 4 hours or overnight.

Top with berries and whipped cream if desired, slice, and serve.
Notes
Cream cheese: I prefer this with full-fat cream cheese, but it will work with reduced fat.  Add a little tang: I love this recipe as written – light on the tang, but I know some folks like their cheesecake with a lot of tang. If that's you, I've got your back! Just add 1-2 teaspoons fresh-squeezed lemon juice to the filling mixture.  Alternate topping suggestions: caramel or salted caramel sauce, chocolate sauce, powdered sugar. 
Nutrition
Calories:
611
kcal
,
Carbohydrates:
65
g
,
Protein:
4
g
,
Fat:
38
g
,
Saturated Fat:
18
g
,
Trans Fat:
1
g
,
Cholesterol:
74
mg
,
Sodium:
399
mg
,
Potassium:
120
mg
,
Fiber:
1
g
,
Sugar:
36
g
,
Vitamin A:
832
IU
,
Vitamin C:
1
mg
,
Calcium:
54
mg
,
Iron:
2
mg